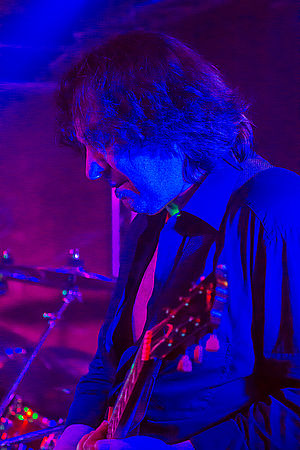 | | |
| --- | --- |
| Name: | Heiko Schmidt |
| Birthday: | 12/26 |
| Instruments: | guitar, bass, keys, vocals |
| Since: | 1976 |
| Favorite guitar: | Gibson Les Paul '59 und Music Man (Ernie Ball) EVH |
| Favorite bands: | Van Halen,Talisman, Journey, Pink Floyd a.m. |
| Favorite musicians: | EVH, Steve Vai, Joe Satriani, Robben Ford, Stevie Ray Vaughan a.m. |
| Favorite food: | Pasta in all variations |
| Kind of sport: | no comment ;-) |
| Hobbies: | music, computer, reading books, and .....?!? |
As almost all rock musicians in my age I was strongly influenced from those simple and hard riffs of the band AC/DC. Fast was clear that my acoustic guitar into the retirement is sent and so I bought me my first electric guitar. After setting up my first band it turned out quickly into which direction it pulls me musically there - it had to be ROCK.
Grown up with songs from TOTO, BAD COMPANY etc.; later it were from harder pace like songs of bands like VAN HALEN, BLACK SABBATH, DEEP PURPLE etc. At first affects by hard riffs of the british guitarist GARY MOORE and later of the sounds by EDDIE VAN HALEN, JIMI HENDRIX, JOE SATRIANI, STEVE VAI, YNGWIE MALMSTEEN, me to today strongly affected.
My own style is completely simple to explain:
Take one dice cup throw into above mentioned guitarists, shake, turn around, finished ;-)
There is briefly said things like my hard riffs, the melodical sections and the emotion-filled occurrence, which unite to my style - or also completely simply
"HEIKO"